Thermal Imaging To Locate Leaks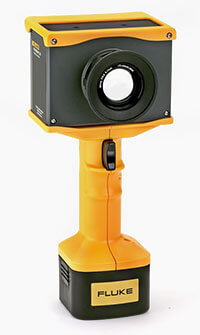 Handheld infrared image scanners can be used to locate roof leaks and determine the quantity and location of wet insulation.
This technology, which is like an x-ray of your roof, can save owners the cost of a roof replacement by spotting leaks before the insulation or decking is damaged.
When the roof cools down at sunset, water in the roof system retains its heat, which allows the infrared scanner to isolate leaks. The scanner, which is accurate to less than 0.1 degrees F, will create digital images to be included in a written report.
Many options are available to restore an older roof; however wet insulation must first be replaced. Alumni Roofing can scan your roof, replace the wet insulation and utilize one of several roof restoration techniques.
Alumni Roofing has used its own scanner on several roofs including:
Thermal Imaging Saves Dollars – A Real Life Example
This pin-hole leak (bottom left photo), which had been present for a long time, was located with the scanner (scanner image at bottom right). Water was entering the building approximately 30 feet from the location of the leak.
Without thermal imaging, it would be difficult to find the exact point of water entry and result in wasted dollars to replace an entire roof vs. repair the exact location in need.